The morning started with big intentions that ended with little results. Lack of motivation, some depression, same old...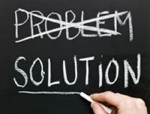 posted on: Jul 31, 2016 | author: Linda
We drove our little girl to the airport, watched her enter the terminal, and drove away. Mind you: That "little...
posted on: Jul 16, 2016 | author: donna
A couple of months ago, I celebrated my 60th birthday. [To answer the question everyone has been asking me:] No, it...

posted on: Jul 13, 2016 | author: donna